Club Name: Berkshire Stags
Location: Berkshire/Buckinghamshire/Oxfordshire
Home Ground: Binfield Cricket Club
Year Founded: 2010
Shirt Colour: Green & Gold
Chairman: Don Reed
Captain: Sam Hoskin
Vice Captain: Chris Wallace
Coaches: Steve Curlewis & Paul Reuby
Team Manager: none
Website: https://www.facebook.com/BerkshireStags
Twitter: @Berkshire_Stags
Best Competition Finishes
BCEW Development League: Winners of Southern League (2022 & 2023)
BCEW David Townley Memorial Twenty20 Cup: First Round (2023)
BCEW Primary Club Heindrich Swanepoel Cup: First Round (2012, 2013 & 2014)
Other Trophies
2011 & 2017 BCEW BJMT Development Tournament Winners
2014 BCEW Development League S/W Twenty20 Cup Runners Up
2023 BCEW Southern Development Twenty20 Cup Winners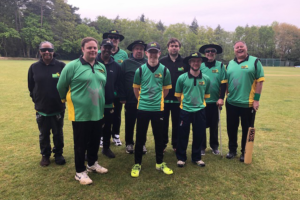 Profile
The Berkshire Stags Visually Impaired Cricket Club was established in 2010. As well as their BCEW Regional league commitments the club also play a number of friendly fixtures throughout the season against local sighted cricket teams whose players wear Simspecs to simulate various types of visual impairment.
The club is proud of its reputation for inclusiveness, welcoming players of all ages, male or female and twice winning BCEW awards for Spirit of Cricket.
The Stags try to ensure every player plays a significant role within the club by being included in as many matches – both competitive and friendlies – as possible. They receive great support from family members of their players who help out with multiple aspects of running the team including making teas & driving players to and from matches, and practices.
Club Contact
Club Secretary: Jeanette Stacey
Email: [email protected]