Clubs from the Northern Regional League dominated BCEW's newly expanded Regional Level Awards as they claimed 8 of the 10 trophies.
Bradford & District & Durham VICC claimed three awards each,
For Durham Emma Gilfoyle picked up Low Partial Player of the Year & Darren Cook was named total Player of the Year, Nathan Jameson also enjoyed success.
For B & D VICC Arif Malik led the way as Partially Sighted Player of the Year whilst Mohammed Javed & Liaqat Hussain were also successful in what was a strong first competitive season for Bradford.
Berkshire Stags claimed two awards, Sam Hoskin's latest Regional Level trophy came alongside a significant milestone achieved by Chris Wallace, Chris is the first low partial player ever to win either a national or regional Partially Sighted Bowler of the Year award.
The other two awards were claimed by players in their first season of blind cricket as Bilal Akhtar gave Lancashire Lions their only award whilst Yorkshire Vikings youngster Archie Hare showed that he is going to be a star of the future as he won Most Promising Player of the Year.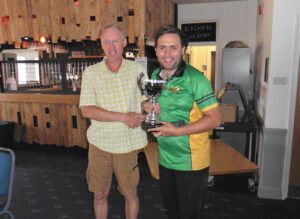 2022 BCEW Regional Level Awards
Partially Sighted Player of the Year
Winner
Arif Malik (Bradford & District)
Other Nominees
Rob Turner (Berkshire Stags)
Harry Hood (Durham VICC)
Nathan Jameson (Durham VICC)
Dave Allen (Surrey VICC)
David Lewis (Surrey VICC)
Total Player of the Year
Winner
Darren Cook (Durham VICC)
Other Nominees
Sam Hoskin (Berkshire Stags)
Robert Sholto-Douglas-Vernon (Dorset Dolphins)
Eamon Preston (Wavertree Merseyside CC)
Roy Turnham (Wavertree Merseyside CC)
Archie Hare (Yorkshire Vikings)
Low Partial Player of the Year
Winner
Emma Gilfoyle (Durham VICC)
Other Nominees
Chris Wallace (Berkshire Stags)
Matt Killeen (Hampshire VICC)
Tokheer Akhtar (Lancashire Lions)
Rob Mckenzie (Metro Devils)
Scott Harvey (Surrey VICC)
Most Promising Player of the Year
Winner
Archie Hare (Yorkshire Vikings)
Other Nominees
Thomas Froud (Berkshire Stags)
Usman Zahid (Bradford & District)
Bilal Akhtar (Lancashire Lions)
Lewis Kurucz (Lancashire Lions)
Shoaib Nasir (Lancashire Lions)
Partially Sighted Batter of the Year
Winner
Bilal Aktar (Lancashire Lions)
Other Nominees
Chris Wallace (Berkshire Stags)
Arif Malik (Bradford & District)
Tim Mackenzie (Dorset Dolphins)
Emma Gilfoyle (Durham VICC)
Nathan Jameson (Durham VICC)
Total Batter of the Year
Winner
Mohammed Javed (Bradford & District)
Other Nominees
Sam Hoskin (Berkshire Stags)
Robert Sholto-Douglas-Vernon (Dorset Dolphins)
Eamon Preston (Wavertree Merseyside CC)
Roy Turnham (Wavertree Merseyside CC)
Archie Hare (Yorkshire Vikings)
Partially Sighted Bowler of the Year
Winner
Chris Wallace (Berkshire Stags)
Other Nominees
Rob Turner (Berkshire Stags)
Arif Malik (Bradford & District)
Nathan Jameson (Durham VICC)
Phil Daniels (Hampshire VICC)
Jason Hobbs (Surrey VICC)
Total Bowler of the Year
Winner
Liaqat Hussain (Bradford & District)
Other Nominees
Moshfique Ahmed (Berkshire Stags)
Robert Sholto-Douglas-Vernon (Dorset Dolphins)
Darren Cook (Durham VICC)
Helen Robinson (Durham VICC)
Abu Bakr Ishtiaq (Lancashire Lions)
Partially Sighted Fielder of the Year
Winner
Nathan Jameson (Durham VICC)
Other Nominees
Arif Malik (Bradford & District)
Thomas Froud (Berkshire Stags)
Prem Sellathurai (Metro Devils)
Lois Turner (Surrey VICC & Yorkshire Vikings)
Ricky Coleman (Yorkshire Vikings)
Total Fielder of the Year
Winner
Sam Hoskin (Berkshire Stags)
Other Nominees
Owais Majid (Bradford & District)
Nadeem Mughal (Durham VICC)
Amjad Khan (Lancashire Lions)
George Sullivan (Surrey VICC)
Roy Turnham (Wavertree Merseyside CC)