By Paul Toplis
On Saturday 16th September 2023 Sussex Sharks defeated Lancashire Lions to win the BCEW David Townley Memorial Twenty20 Cup for the fourth time and first since 2019.
Phil Daniels smashed the third ball he faced to the square leg boundary to complete a win against the Lancashire Lions in just under eight overs. It was
his second boundary as Sussex reached a target of 72 for the second time in the competition, having overhauled Yorkshire's total in their quarter-final.
This win was based on a great display from their bowlers led by Joe Harrison with 2 wickets for 5 from three and a half overs and skipper Dan field with
3 for 12. Marcus Kipling bowled his four overs for just 9 having conceded only 29 against Somerset earlier in the day. The Lions had to battle hard to
make a game of the final with Bradley Newton amazing in the field while barely able to hobble having picked up an injury on the day and contributing 29 to their total.
Sussex reached the final after avenging their 2022 semi-final defeat by Somerset in a very tight match between the two teams that were perhaps the bookmakers' favourites on the day. The draw threw the two sides together again and on winning the toss Somerset opted to bowl and chase. They had won their two previous T20s this summer chasing – edging out Metro with just a couple of balls to spare in round one before seeming to coast past Northants with a 10 wicket win in their quarter final. The match did not start well for Mark Oliphant opening for the Sharks – bowled second ball by Ed Hossell, while already half out leg before! Sussex Si Ledwith joined Mark Bond at the crease and this pair added 100 before Si was bowled by Rory Hossell to bring the skipper to the middle, who hit a rapid 27 before being caught by Matt Davidson to give Rory a second wicket. Mark completed a half century before being run out by Alan Mabey, as Sussex posted a competitive 169.
The west country side looked to have the chase under control as Ed Hossell and Rob Crisp scored 126 together and had reduced the asking rate from its initial figure when Ian Morris stepped forward to bowl a brilliant over that went for just three runs and bowled Ed for 75, scored at a strike rate of 150. This coupled with Dan's well taken caught and bowled of Rob after only two more runs had been added allowed Sussex to put the brakes on the scoring. Despite a cameo from Rory of a dozen and a rapid 12, from just five balls, for Robert Sholto-Douglas-Vernon they finished six runs behind Sussex.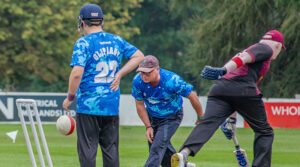 Meanwhile Surrey playing at T20 finals day for the first time had a tough time against Lancashire after winning the toss and asking the Lions to bat. Tahseen Sabir and Bradley Newton had great fun in scoring 228 for the first wicket before Tahseen finally fell to a good catch from Hassan Khan from Shakir Iqbal's bowling and Shoaib Nasir was then bowled by Dave Allen as just 10 more runs were added to the total. Tahseen scored a final's day century with his 108 including 13 boundaries, Bradley was not out seven short of three figures having scored a dozen boundaries and one six. With Tahseen, Sheraz and Lewis Kurucz all getting an economy of less than six an over Surrey were just over 100 short when their twenty overs were complete, having lost six wickets. Only Shakir (51), Dave Shaw and Hassan reached double figures.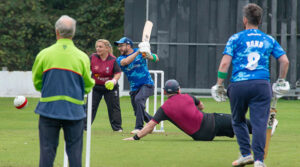 Surrey struggled again in the afternoon's third place play off match as Shakir had to retire with an injury on 56 and again only two other Surrey batters reached double figures, Richard Claridge and skipper, Ryan West. Albert Jordan picked up a couple of wickets and Rob one while the innings was finished off by a hat trick from Ed that saw him finish with 4 for 7, as Surrey posted 121. With all their injuries Ryan decided that there was no point in risking further harm to any of the players and conceded the game.
The event finished with the BCEW end of season awards that included the two player of the day awards, for Mark Bond of Sussex as the partial player and
Robert Sholto-Douglas-Vernon as the total player. BCEW are very thankful to Wolverhampton Cricket Club for once again being excellent hosts in providing
a great venue, good food and ensuring that although cloudy all day and getting worrying grey late on that there was no rain.