Sussex Sharks defence of the BCEW David Townley Memorial Twenty20 Cup starts with an away trip to Kent Spitfires in the first round. The winner of that match faces a home quarter final against debutants Dorset County VICT or Southern Development League champions Berkshire Stags.
If they can defeat Yorkshire Vikings in the first round 2023 T20 Cup runners up Lancashire Lions will host 2022 T20 Cup winners Somerset VICC in the quarter finals.
2023 BCEW National League winners London Metro face two trips to the north if they want to reach T20 Finals Day, as they head to Cheshire Cobras in the first round, with the winner away to Bradford & District in the quarter finals.
2021 Twenty20 Cup winners Northants Steelbacks travel to face Surrey VICC in the only quarter final not dependent on first round results.
In a change to previous years the T20 Cup semi final draw will be based on the quarter finals as detailed in the full draw below.
The Primary Club Cup draw has put 4 of the 5 former finalists in the same half of the draw.
The headline tie sees London Metro host Sussex Sharks, with the winners away to either Somerset VICC or Yorkshire Vikings in the semi finals.
In the other half of the draw the only team ever to have reached the final are Northants Steelbacks, they host Lancashire Lions in the quarter finals, the winner of that tie will face a first time semi finalist in the winner of Surrey VICC v Kent Spitfires.
In another change there will be no BCEW Southern Development Twenty20 Cup in 2024.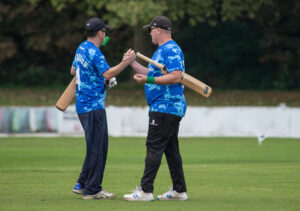 Full 2024 Cup Draws
BCEW Primary Club Heindrich Swanepoel Cup
Quarter Finals
Somerset VICC v Yorkshire Vikings
London Metro v Sussex Sharks
Surrey VICC v Kent Spitfires
Northants Steelbacks v Lancashire Lions
Semi Finals
Somerset or Yorkshire v Metro or Sussex
Surrey or Kent v Northants or Lancashire
BCEW David Townley Memorial Twenty20 Cup
First Round
Cheshire Cobras v London Metro
Dorset County VICT v Berkshire Stags
Kent Spitfires v Sussex Sharks
Yorkshire Vikings v Lancashire Lions
Bradford & District, Northants Steelbacks, Somerset VICC & Surrey VICC receive byes
Quarter Finals
Game A: Kent or Sussex v Dorset or Berkshire
Game B: Yorkshire or Lancashire v Somerset VICC
Game C: Surrey VICC v Northants Steelbacks
Game D: Bradford & District v Cheshire or Metro
Semi Finals
Winner of Game A v Winner of Game B
Winner of Game C v Winner of Game D